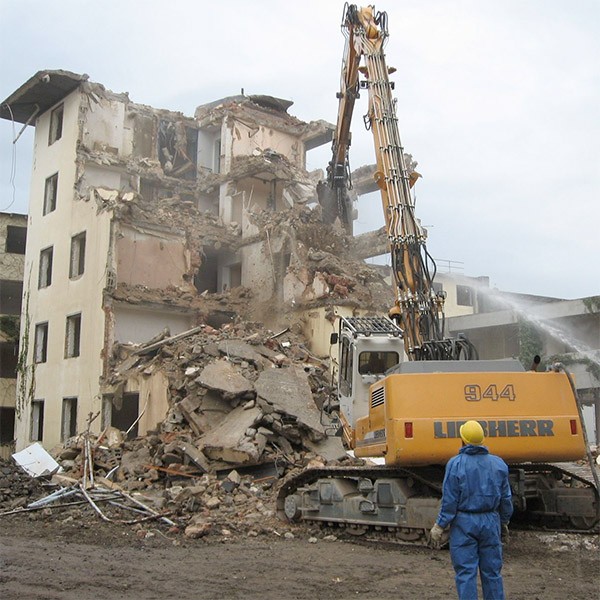 Often, land remains unused for decades despite an attractive location and good infrastructural connections. In order to give the investor of such a site planning and cost certainty and to enable a sustainable and economic processing of the site, we offer you comprehensive services in the area of site redevelopment or site recycling.
Land development - our core competence
We are also able to take on such complex projects as the responsible general contractor - benefit from synergies and minimise schedule and cost risks.
Soil investigation
Investigation of contaminated sites
Preliminary, approval and implementation planning
Explosive ordnance clearance
Geotechnical services
Deconstruction of industrial and commercial buildings
Development of disposal concepts
Soil remediation
Groundwater remediation
Site preparation
Development
Nature conservation monitoring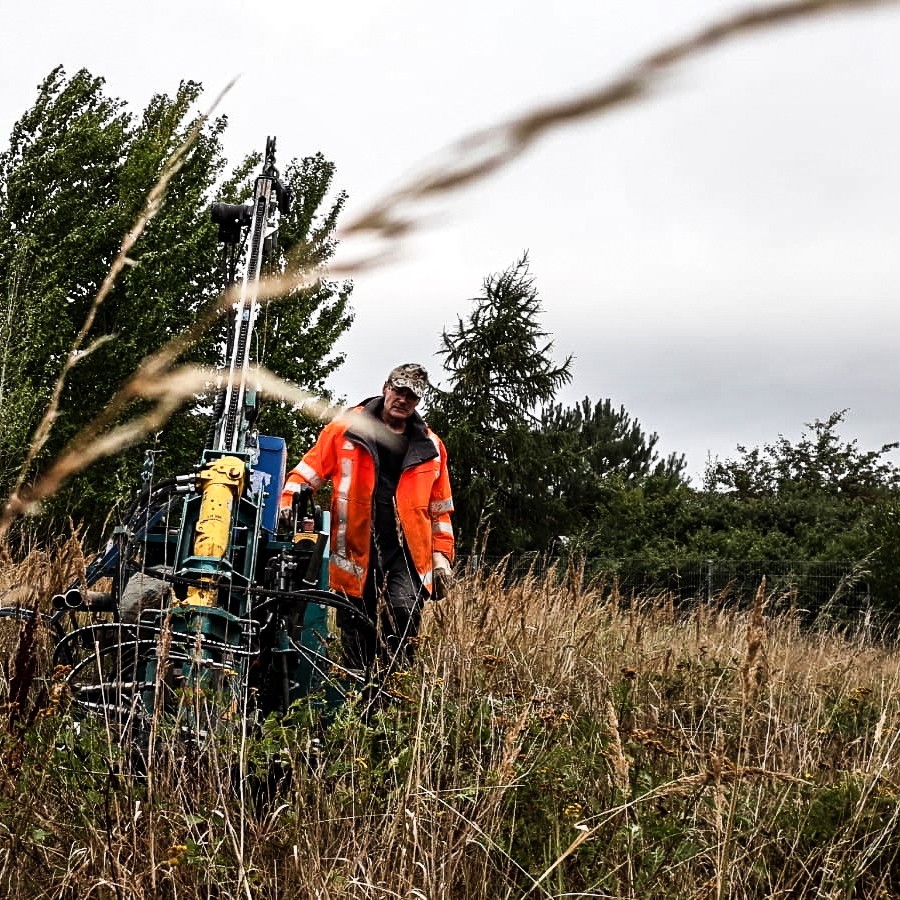 Global industrialisation caused harmful soil changes and groundwater contamination. We ensure professional remediation. Many areas lie fallow today due to soil or groundwater contamination.
We assess such contaminated sites and old deposits with regard to their hazard potential. Then we treat them so that the areas are open to a future planned use. With our experience and equipment, we can offer you individual phases of processing or take over the entire remediation management.
Soil investigations for precautionary soil protection
Soil mapping
Soil protection concepts according to BBodSchG
Soil protection during power grid expansion
Soil monitoring during construction
Land management and land utilisation concepts
Historical, orientational and detailed investigations of contaminated sites according to BBodSchG/V
Hazard assessments for B-planned areas
Soil investigations in fire damage cases
Preservation of evidence soil in the case of buyer/tenant changes/construction sites
Remediation and approval planning according to BBodSchG/V (soil, groundwater, innovative processes)
Implementation planning for soil / contaminated site remediation measures
MNA / ENA concepts for natural degradation and retention processes
Disposal and recycling concepts
Cut & fill planning / soil management concepts
Optimisation calculations for saving external disposal costs in the remediation of contaminated sites
Preparing and participating in the awarding of construction contracts for the remediation of contaminated sites
Expert supervision / local construction supervision / site management for the remediation of contaminated sites
Control of soil management
Due diligence (DD) or Environmental Site assessments (ESA) Phase I and II investigations
Contaminated sites - Valuation investigations for the purchase and sale of land as well as for utilisation risks and investment obstacles
Baseline condition reports according to the IED Directive
Relevance tests (rgs according to IED directive)
Groundwater is the basis of our existence. Worldwide, a "good condition" and the sustainable management of groundwater resources is the challenge for a secure future! We face the tasks and problem solutions around the topic of "groundwater" every day. 
Development of hydrogeological and hydrological basics
Checking the supply and availability (e.g. pump tests, chemical analysis)
Soil science evidence collection and environmental impact assessment
Monitoring of approval procedures under water law
Designation of protected areas
Planning and monitoring of groundwater abstraction (extraction and during construction)
Planning and monitoring of groundwater remediation (in situ and ex situ)
Planning and monitoring of geothermal plants
Groundwater quality mapping
Infiltration and percolation (groundwater recharge)
Vulnerability testing of aquifer systems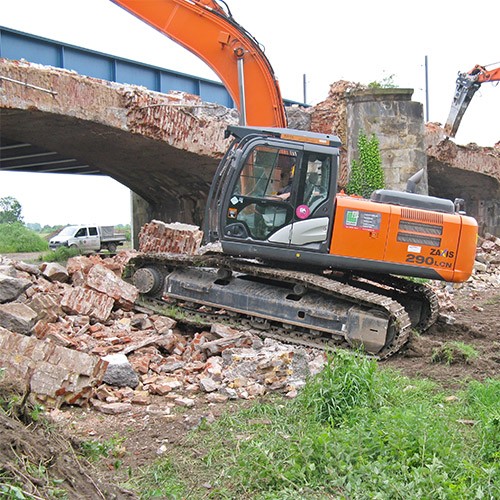 Due to dwindling recycling and disposal options, the associated price increases and the growing demands to conserve soil as a resource, intelligent soil and waste management is increasingly becoming the focus of every construction project. We support you both in the planning phase and during the realisation of your project.
Basic management in the course of preliminary planning
Development of economic and resource-conserving land management
Mass and cost forecasts
Minimisation of material flows
Sampling, analytics and expert evaluation of wastes
Control and monitoring of waste streams
Electronic record keeping for hazardous and non-hazardous waste
Complete solutions for waste and soil management on your construction site
"The properties designated as contaminated military sites are old sites and old dumps on which, in particular, armament-specific substances (for example, explosives, incendiary and smoke substances, chemical warfare agents, production residues) were developed, tested, manufactured, processed, stored or destroyed." (according to UBA - Federal Environment Agency).
We are the leading specialists in the field of historical reconstruction.
Basic research & archive research
Historical explorations
Europe-wide air strike database
Remote sensing and aerial photo interpretation
Designation of areas suspected of containing explosive ordnance
Data preparation with GIS
Assessment & Risk Assessment
Technical investigations
Clearing & probing concepts
Occupational safety
Preparation of tender documents
Redevelopment planning
Project management
Quality assurance
"Military contaminated sites are old sites and old deposits that are assigned to direct military operations after the Second World War." (according to UBA - Federal Environment Agency). Many plots of land remain unused despite their prime location because impairment is suspected due to the history of military use and military-specific pollutants. from historical reconstruction to the implementation of conversion projects, we offer our clients comprehensive services. The linking of different disciplines leads to the successful handling of complex issues in the revitalisation of areas formerly used for military purposes.
Basic research & archive research
Historical explorations
Remote sensing and aerial photo interpretation
Data preparation with GIS
Assessment & Risk Assessment
Technical investigations
Redevelopment planning
Preparation of tender documents
Project management
Quality assurance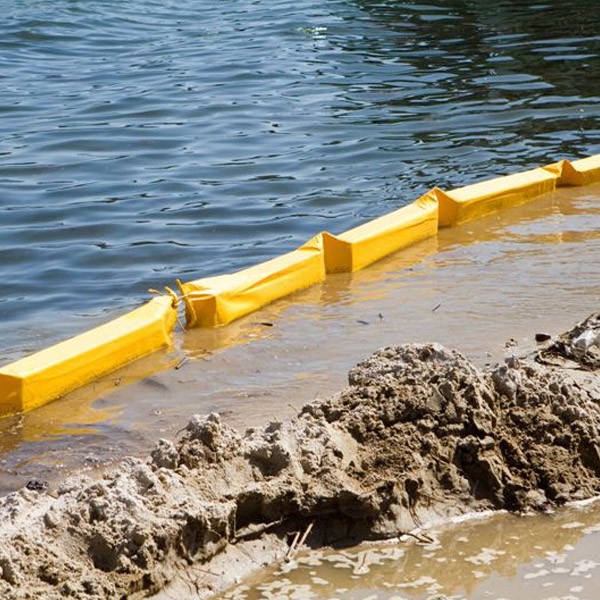 Requirements such as the permanent protection of groundwater and the biosphere make site selection and landfill planning more difficult. Old landfills, on the other hand, are often no longer state of the art. If they are leaking, safety measures and sometimes also emission monitoring must be carried out.

Landfill construction: We know the requirements - you get the solutions

We are there for you for all challenges in landfill construction and landfill rehabilitation. With landfill planning, landfill sealing and landfill remediation as part of waste management, safety and aftercare concepts.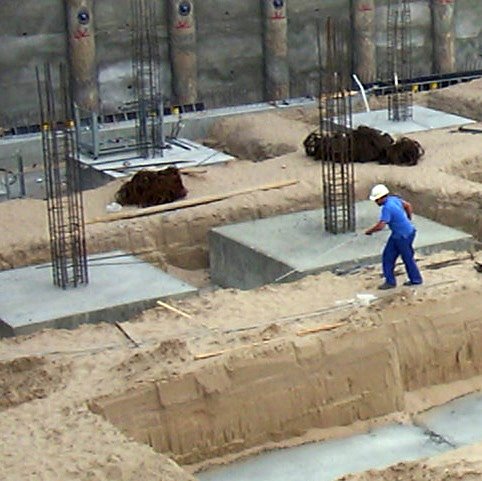 According to DIN E 1997-1, a subsoil investigation must be carried out for every building as the basis for structural planning and the geotechnical report must be prepared according to DIN 4020. The soil-mechanical properties of the subsoil determined in this way form the basis for e.g. the verification of foundation stability, the forecast of settlements, the planning of building waterproofing, the possibility of rainwater infiltration, the durability of traffic routes, or the requirement of excavation securing. Our geotechnical engineering department examines the subsoil according to engineering geological aspects and the requirements of DIN EN 1997-2 and advises, plans and optimises the design of the geotechnical trades according to constructional, environmental and economic aspects.
Design and implementation of subsoil investigations according to DIN EN 1997-2
Soil expertise (geotechnical report) according to DIN 4020 or the complete scope of services of the HOAI (Fee Structure for Architects and Engineers)
Initial geotechnical assessments for the preparation of purchase decisions (preliminary explorations or archive research)
Soil mechanics laboratory tests / own earthworks and field laboratory
Settlement predictions for single foundations, foundation groups or slab foundations, optimisation of subgrade reaction coefficients
Earth static calculations according to DIN EN 1997-1, geotechnical design reports
Dimensioning of well systems and infiltration systems
Cost estimates and variant studies
Technical tender evaluation and contract award advice
Expert monitoring of the construction work and inspections, bottom inspections, compaction checks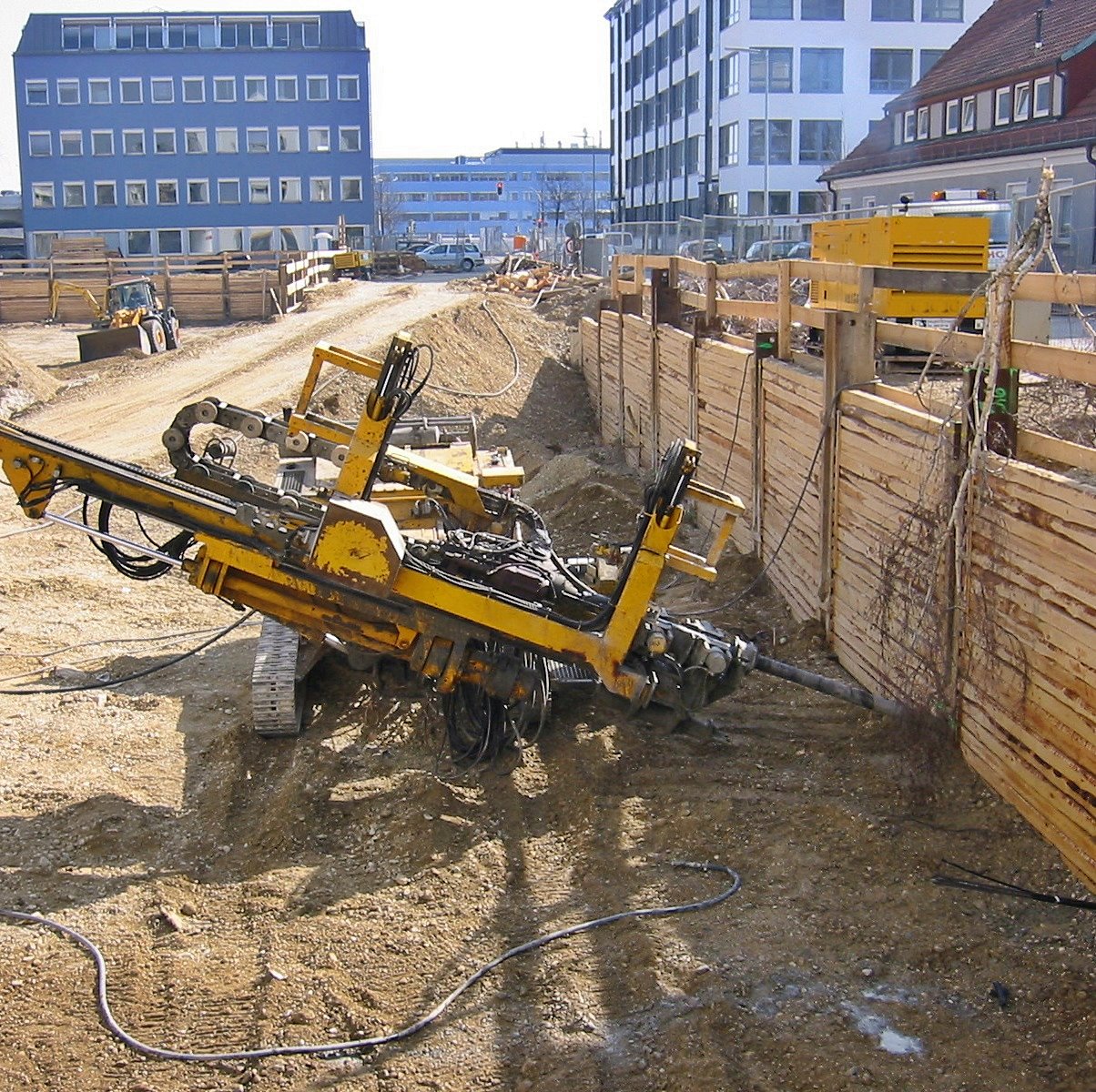 The diverse procedures of special civil engineering offer a suitable technical solution for the implementation of planning goals for almost every situation. The wide range of specialist foundation engineering techniques offers a suitable technical solution for implementing planning objectives in almost any situation where the inherent strength of the ground is insufficient for the introduction of building loads or the construction of steep slopes, where existing structures have to be secured or where groundwater has to be kept out. Ground improvement, pile foundations, retaining walls, underpinning and watertight excavations are the most common applications of foundation engineering. If groundwater or contaminated soils are interfered with in the process, approvals from the environmental agency are required in addition to the static and economic aspects.
Our geotechnical engineering department plans, calculates and monitors geotechnical constructions of all kinds in all service phases of the HOAI and carries out the necessary approval procedures.
Object and structural planning in earthworks and special civil engineering according to DIN EN 1997-1, EAP, EAB and associated regulations
Preparation of verifiable stability verifications
Use of standard industry software and own special solutions
Applications for permits under the Water Resources Act
Technical expert reports on permission agreements
Mass determinations on digital terrain models, 3D-CAD constructions to clarify geometric conflicts
Cost estimates, cost calculations, variant comparisons
Creation of tender documents, GAEB format
Technical and economic tender evaluation, procurement advice
Expert monitoring of construction and acceptance, quality assurance plans, Final documentation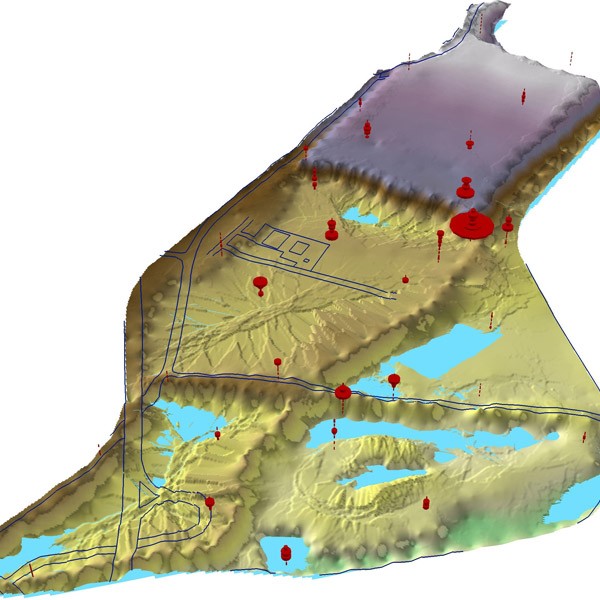 The Federal Immission Control Act (BImSchG) stipulates that the construction and operation of installations that can typically cause harmful effects on the environment (see § 4 para. 1 sentence 1 BImSchG) require immission control approval. The types of installations concerned are listed in the Ordinance on Installations Requiring a Permit (4th BImSchV).
Directive 2010/75/EU on industrial emissions: Baseline report
Since May 2013, these industrial sectors have been obliged to submit an initial status report to the authorities before commissioning new plants. For old plants, transitional arrangements apply until July 2015.
The AZB is intended to document the condition of the soil and groundwater with regard to the so-called "relevant hazardous substances" used on the plant site. It serves as a standard of comparison and as evidence for the obligation to return the substances in the event of decommissioning of the facility.
The CSA provides information on the use history of the facility site, presents the environmental framework conditions and assesses existing or newly collected soil and groundwater data.
We support you in all matters relating to the preparation of an AZB:
AZB - Preliminary examination
Authority management
Assessment of the relevant hazardous substances
Historical research
Preparation of investigation and monitoring concepts
Carrying out soil and groundwater investigations
Assessment of the baseline condition
Documentation and reporting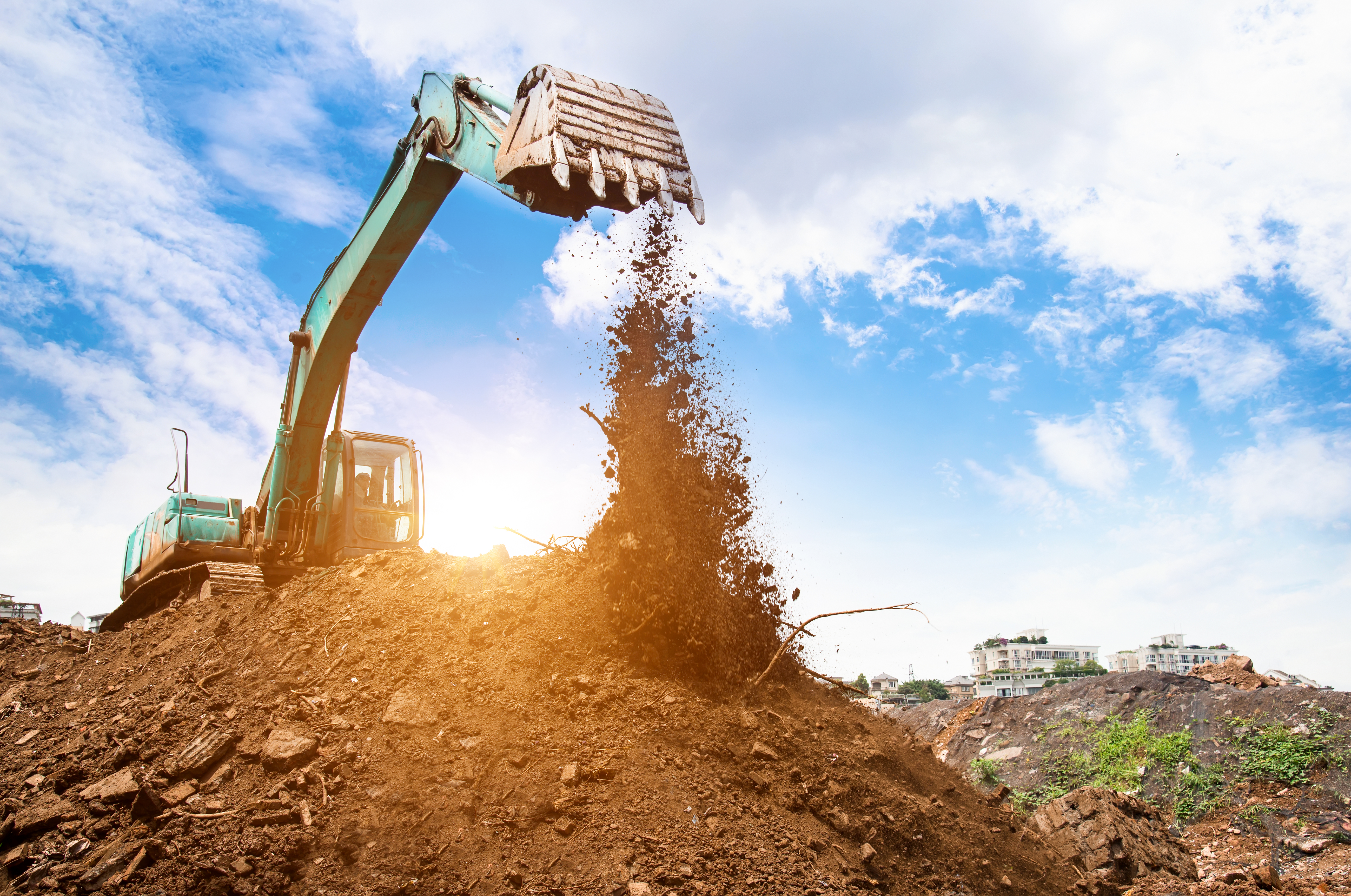 Rare earths and metals are playing an increasingly important role in global economic and product development. Fossil energy sources, such as oil and natural gas, will also not be superfluous in the coming decades. We support companies and institutions worldwide in the exploration of deposits and their sustainable management. This includes the use of innovative geochemical surface exploration in the prospecting of deep reservoirs for crude oil and natural gas. In wildcat-survey investigations, we use a microbiological field method that combines geochemical and microbiological investigations in addition to geophysics to draw conclusions about the cave-in of the reservoir site. We have achieved an extremely positive hit rate in several international assignments. In addition, we organise and plan the location and investigation of deposits of rare earths and metals. In conjunction with advice on the sustainable and environmentally sound management of mining areas as well as recultivation, we offer our clients comprehensive services in this sector.
Raw materials exploration
Prove deep disposal sites
Use of innovative
Examination technique
Sustainable management
Recultivation
Our geologists and engineers accompany you from the initial idea to aftercare. Sustainability is always in the foreground!
Prove deep disposal sites
Use of innovative examination technology
Sustainable management
Recultivation
Occupational safety management on construction sites and when handling hazardous substances is an important part of occupational safety in contaminated areas. We draw up work and safety plans for you and take over the coordination on contaminated sites. This includes planning, instruction, acceptance and ongoing monitoring of activities in contaminated areas.
Our trained safety and health protection coordinators (RAB 30) take over the cross-trade safety coordination on construction sites on the client's order. In the planning phase, we take over the preparation of the preliminary notice, the safety and health plan and the documentation according to BauStellV. In the execution phase, our SiGeKo coordinates the safety and health protection-relevant interactions of the various works on the construction site.
Coordinator activities (TRGS 524 / 521 // DGUV 101-004) / Work and safety plans
A risk analysis taking into account local conditions is an essential step towards effective disaster preparedness.
Due to our many years of experience in project management and advising authorities, we are experts in supporting districts, municipalities and companies in the prevention and implementation of risk analyses. In this way, we develop a comprehensive decision-making and planning basis for your risk and crisis management.


Preparation and data collection
Identification of local protected assets and damage classes
Definition of hazard scenarios
Estimation of probabilities and extent of damage
Moderation and communication
Project management and documentation
Introductory and training events
Disaster risk management - For improved risk and crisis management
Historical research/reconstruction
Hazard prevention planning
Safety planning/fire protection
Subject and spatial information systems
Model technology and risk analysis
Flood protection and hydraulic engineering
Detection and assessment of sensitive infrastructures