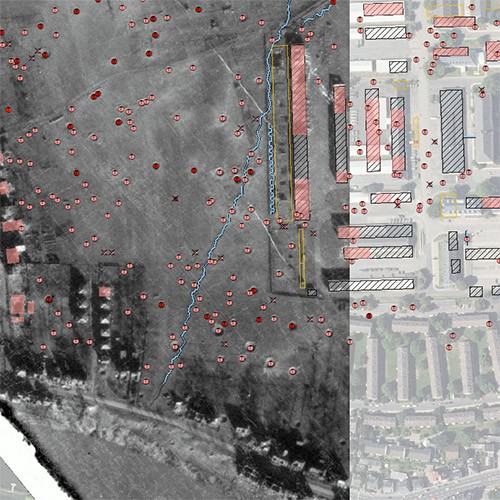 Aerial photo evaluation is a central aspect of the historical-genetic reconstruction of explosive ordnance contamination. Without an aerial photo evaluation, the explosive ordnance contamination of a specific area cannot be assessed or can only be assessed in exceptional cases.
Although aerial photographs objectively represent an area or terrain at a certain point in time, the objects visible in the aerial photographs must be interpreted by the evaluator. In order to minimise misinterpretations and misinterpretations, special requirements must be placed on the evaluator, especially with regard to experience.
The specialists of Mull und Partner Ingenieurgesellschaft have many years of experience in the thematic interpretation of historical aerial photographs with regard to explosive ordnance-relevant objects and structures such as bomb craters and dud points, building damage, anti-aircraft and other emplacements, firing ranges, blast and fire sites or battlefields. 
Thematic interpretation of historical aerial photographs
GIS-supported digitisation of the relevant image inventory
Processing, analysis and presentation of the generated geodata
Photogrammetric processing (orthorectification and georeferencing) of the historical image material
Creation of historical orthophotos and orthophotomosaics
Derivation of historical terrain models Your contact
Departmental Coordinator
CONSTRUCTION MANAGEMENT

Norbert Tümmers


norbert.tuemmers@mup-group.com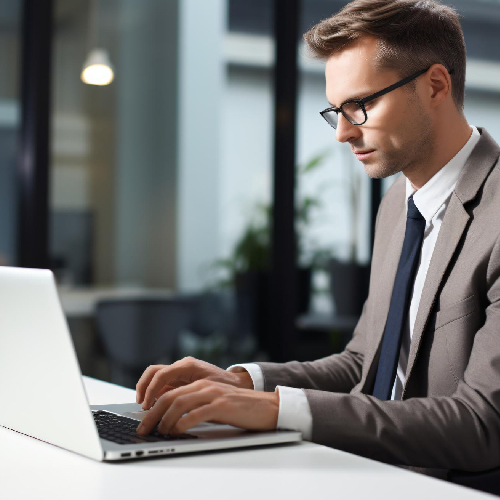 The causation scenarios for an explosive ordnance contamination include air strikes, ground fighting, ammunition destruction, regular military operations and the production and storage of ammunition. Due to the large number of possible causes, a complex picture often arises from various sources and information that must be taken into account for the assessment of the suspected explosive ordnance. We are the leading specialists in the field of historical-genetic reconstruction.
Basic research and archive research
Historical explorations
Europe-wide air strike database
Data preparation with GIS
Evaluation and risk assessment
Designation of areas suspected of containing explosive ordnance Your contact
Departmental Coordinator
CONSTRUCTION MANAGEMENT
Norbert Tümmers

norbert.tuemmers@mup-group.com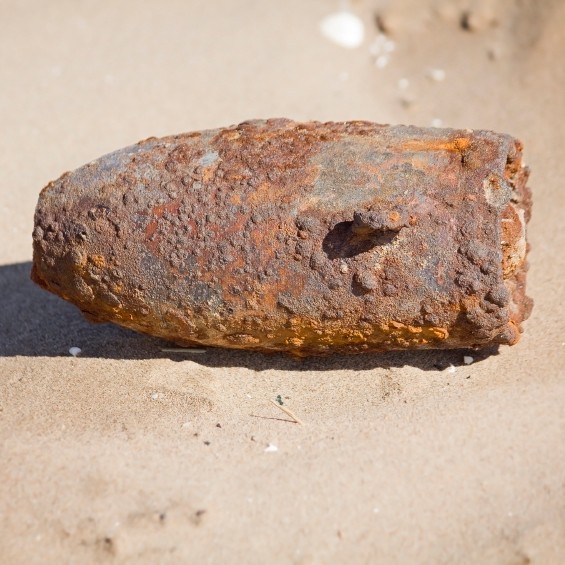 Since free areas for the implementation of construction measures are becoming rarer and rarer, the conversion of areas in urban areas as well as the renewal and expansion of historically grown infrastructure are increasing significantly. This development leads to increasingly complex construction projects, for which the contamination of the project area by explosive ordnance is a significant factor. The planning of such measures poses great challenges for property owners and developers, and we can assist you with our extensive expert knowledge.
Preparation of basic working materials
Risk assessment
Preparation of work and safety plans
Development of clearance concepts and coordination with the relevant authorities
Cost estimate Your contact
Departmental Coordinator
CONSTRUCTION MANAGEMENT

Norbert Tümmers


norbert.tuemmers@mup-group.com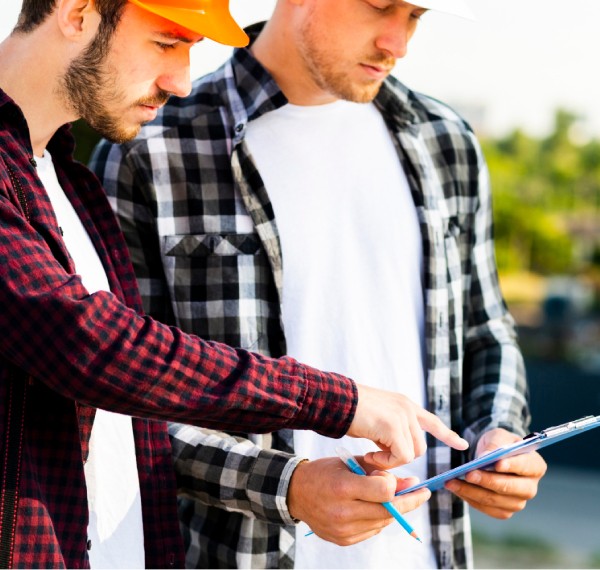 Implementation planning requires close cooperation and an intensive exchange of information between clients, specialist planners and engineers. Often, the requirements and effects of explosive ordnance disposal on the construction process are underestimated by planners of non-specialist trades, which can lead to considerable and cost-intensive delays in the construction process. It is therefore all the more important to involve explosive ordnance disposal experts in the planning process at an early stage.
To support our clients in minimising explosive ordnance-related risks to the construction process.
Information presentations on the topic of explosive ordnance risk
Implementation planning
Support work for other trades involved
Weaving the explosive ordnance detection and clearance measures into the construction schedule
Preparation of the contract documents (bill of quantities, specifications)
Accompaniment and advice during the awarding process
The basis for a smooth execution of the measures and to be able to make decisions at short notice is the close cooperation between client representatives, technical construction management and the executing companies.
Advice during the ongoing execution
Local construction supervision
Site management
Review and evaluation of exploratory data
Project management and controlling
Documentation